Info: Your browser does not accept cookies. To put products into your cart and purchase them you need to enable cookies.

Bakery Supplies
Professional Bakery Ovens
Ventilated Baking Oven
Ventilated Baking Oven
UNICO 4060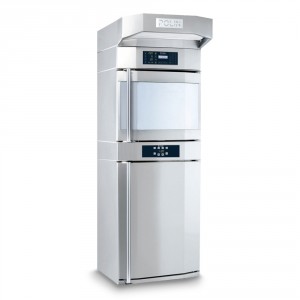 This is a highly versatile oven as it offers every baking option: ventilated, combined and static.
The cooking chamber is convection heated and is equipped with electric heating at the bottom that can reach 350°C very quickly via a separate thermostat. This innovative feature offers a separate baking space from that of the convection chamber, which allows you to bake or heat various other things at the same time. It is also possible for the tray on the bottom to be used for baking just like the others. You simply have to switch off the electric elements.
Convection Oven with loading trays directly into the camera. It has a good performance at a sufficiently compact size oven. Suitable for baking pastry buns and small sized products in the range. Easy to manage. It can be equipped with a stand or proofer.
Standard features:

>The control panel with the scroller

>Lighting 4 halogen lamps

>Drop a steam generator

>The condensate drain in the chamber

>The control panel of the camera to reduce the width of the furnace

>Removal system of the steam chamber

>Presets for hanging doors on both sides
Additions:
>Design voltage 220V 50-60Hz 3 phase 

>The control panel on the 100 program

>Proofer 8 trays

>Stand with guides for trays

>Exhaust cornice condensate
| | | | | | |
| --- | --- | --- | --- | --- | --- |
| Model | Number of sheets in the trolley, tray | height between the sheets, mm | Tray dimension, mm | Power, kW | Weight, kg |
| 4060/5 | 5 | 78.5 | 400 x 600 | 6.6 | 150 |
| 4060/9 | 9 | 86 | 400 x 600 | 13 | 250 |